SAVE THE DATE
On 1-3 July 2024 the annual Society for Latin American Studies (SLAS) Conference will be hosted by the Centre for Latin American Research and Documentation (CEDLA) at the University of Amsterdam!
This year the annual Society for Latin American Studies conference will cross the Canal to welcome its participants in Amsterdam. This border-crossing endeavour sets the symbolic tone for three days of in-depth discussion on developments in Latin American Studies, across borders and disciplines. This year the conference will also include an additional day for postgraduates organised by PILAS (Postgraduates in Latin American Studies).
SLAS is one of the leading Latin American Studies organizations in the world. Its annual conferences gather together scholars, journalists, artists, publishers, and intellectuals from around the world. CEDLA conducts and stimulates research on developments in Latin America and distributes the results via academic education, events and publications. CEDLA will be celebrating its 60th birthday during the conference.
CEDLA is delighted to invite proposals for the SLAS conference and PILAS day 
 

Conference theme

In line with previous conferences, SLAS2024 will be an opportunity for explorations of any aspect of Latin American Studies, from any disciplinary and theoretical perspective. We have an optional conference theme that speakers are invited to address, which is:  
In/Justice in Latin America and the Caribbean
The choice of theme comes from a need we feel to address persistent inequalities and struggles, but also successes, in the search for social justice amid an ongoing climate of antagonism and polarization. As a field, Latin American Studies has always been concerned with the societal crises of our times. We invite you to address in/justices from any disciplinary, theoretical or methodological vantage point. From gendered and racialized injustices, epistemic violence to climate change and political resistance, we aim to bring together a variety of critical perspectives and practices. In addition to academic panels and a thought-provoking keynote lecture, the conference also encourages the submission of roundtables that combine academia with advocacy, activism or the arts.
 
PILAS
 
In addition to the SLAS conference, postgraduate students are invited to participate in the Postgraduates in Latin American Studies (PILAS) event, hosted on 4 July 2024 at CEDLA. Submissions to PILAS will run through the same system, where you can select PILAS on the form.
The platform for the submissions of paper, panel and roundtable proposals is now open and will close on 15 November 2023. This is the deadline for all submissions.
We much look forward to hearing from you soon!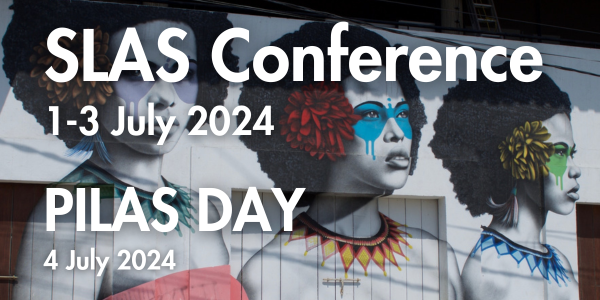 SLAS 2024

Registration website for SLAS 2024
SLAS 2024congres@uva.nl
SLAS 2024congres@uva.nlhttps://www.slasamsterdam2024.nl
2024-07-01
2024-07-03
OfflineEventAttendanceMode
EventScheduled
SLAS 2024SLAS 20240.00EUROnlineOnly2019-01-01T00:00:00Z
University of AmsterdamUniversity of AmsterdamNieuwe Achtergracht 166 1018 WV Amsterdam Netherlands